Essays On Leadership Roles For High School
By Kate Mathalone
As a freshman at Memorial High School, I immediately realized that the next four years would be spent in preparation for college applications. I also realized that Memorial was insanely competitive, and I couldn't help but feel like I was at a disadvantage compared to my peers who were enrolled in nothing but honors/pre-AP classes and advanced level math (pretty sure the only honors class I made the cut for was English). I struggled academically throughout freshman year, but I finally hit my stride as a sophomore and made the honor roll a few times. I eventually added more AP courses, improved my GPA, and scored high enough on my SAT and ACT exams to feel confident when college applications rolled around.
Ultimately, it wasn't my GPA and/or test scores that allowed me to stand out among other applicants (and, hello, I went to Memorial. We had 23 valedictorians that year). That's not to say my grades weren't important or weren't taken into consideration, because they most definitely were. However, my applications stood out because I held a variety of leadership roles throughout high school. I was involved in choir and Markettes (our dance/drill team) for all four years, and I demonstrated my commitment to both activities by pursuing leadership roles.
I was given smaller roles in choir as a freshman and sophomore by serving as the main choreographer for our show choir performances as well as the soprano section leader. These experiences helped me when I tried out for Markette sergeant before my junior year. The Markette officer line was VERY structured, and there was a lot expected of us. Nevertheless, I learned a lot and matured thanks to the high standards and intense time commitment involved. I enjoyed the experience and appreciated the opportunity to create new traditions and lead the team. After some soul searching in the spring of my junior year, I decided that I wanted to spend my senior year serving as a leader for choir and campaigned for the position of choir vice president. I still participated in Markettes and enjoyed the perks that came with being a senior, but I used the lessons learned from my year as a Markette sergeant and applied them to effectively improving the leadership within the choir program.
When applying to colleges, these roles were featured on my applications and within my activities résumé, but they were also highlighted throughout almost all of my teacher and counselor recommendation letters. Serving in these positions allowed me to get to know my teachers better and enabled me to stand out in a graduating class of over 500 students. I'm confident that these roles helped me receive acceptance letters from some of my reach schools as well as a pretty significant amount of scholarship money. Most importantly, these roles enabled me to develop essential leadership skills that have continued to benefit me professionally and socially.
Items to Consider When Looking at Leadership
Obviously, the easiest place to start would be within your favorite extracurricular activities. If you're heavily involved in a sport, then it might be difficult to get any real leadership until senior captains are selected, in which case you may want to start elsewhere (like student council or your school's service organization).
Start small. All leadership is good leadership, and the experience will make you a stronger candidate in the future for bigger roles. You'd be surprised at how essential every position is to an organization, so even if the role doesn't seem important to you, you'll learn that it's crucial to the bigger picture (and you'll gain some great skills!).
If you don't have any favorite extracurricular activities, start looking for clubs or activities to join. If there aren't any clubs that appeal to you, don't be afraid to start one! How great would it look on your résumé if you can say that you are the founder of an organization?
Don't let the fear of not being elected or selected prevent you from trying out or campaigning. "You miss 100% of the shots you don't take. – Wayne Gretzky" – Michael Scott (but seriously).
Talk to current officers about what their roles entail, and figure out how you can prepare and what will make you the strongest candidate for the position in the future.
Push yourself out of your comfort zone. If being a leader or speaking in front of a large group of people intimidates you, it will always intimidate you if you keep avoiding it. The only way to learn essential leadership skills is to take on leadership roles. That being said,
You don't have to have an official title to be a leader. Find ways to contribute to an organization without being asked. Take it upon yourself to make something better if you see that it can be improved. Set an example and find a way to be a role model to others.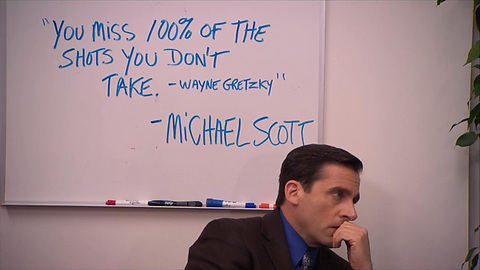 Question: What exactly is required for the leadership portion of the application? Is everyone expected to be an officer in a club, etc?
Admission officials don't expect everyone to be a club officer or to hold any sort of elected position in or out of school, but they do want to give applicants a chance to point out that others (fellow students, teachers, administrators, etc.) have deemed them responsible and worthy of being in charge.
Students who have never headed a school group or who never captained a sports team may feel that they have no "leadership" posts to include on their applications. But, for college admission committees, leadership can take diverse forms – and not just the most obvious ones. For instance, I have advised students who have:
-been appointed managers, shift supervisors, etc. at their weekend, after-school, or summer jobs
-served as camp counselors or counselors-in-training
-spearheaded campaign efforts for a school, community, state, or even national election
-worked as babysitters in private homes, at their church or synagogue, etc.
-volunteered as peer mediators or mentors
-taught math, music, etc. to younger children
All of these duties require a form of "leadership." You don't have to be a student body president or Spanish Club secretary to qualify as a leader. Granted, some applicants really can't come up with any leadership roles at all, and there's no reason to force the issue. But, before leaving that section totally blank, all seniors should think hard about what they've accomplished and about those times when, perhaps almost unwittingly, they may have served as a leader, organizer, or role model for others.
(posted 11/04/10)
Question about admissions, financial aid, or college search?
ASK THE DEAN